Was this newsletter forwarded to you?

Subscribe here

12 June 2021

Hello again Global Impact readers,

This week, Maria Siow, our Senior Asia Correspondent, will give us an update on India's devastating second wave of coronavirus infections. While the worst of the surge in new cases appears to have passed, the after effects are just becoming evident and could last for years. The impact on the nation's health, its economic outlook and its already sensitive ties with China are now in focus.

John Carter
Senior Editor, Political Economy

The after effects of India's coronavirus virus now starting to show

India's second wave of coronavirus infections has thankfully shown signs of abating, but the country's doctors are now grappling with a new threat: a surge in complications among people who previously recovered from Covid-19.

Apart from hearing impairment, severe gastric upsets and blood clots leading to gangrene have been linked by doctors to the Delta variant, also known as B.1.617.2, that has spread to more than 60 countries over the past six months.

Fungal infections are also running rampant. Over 28,000 cases of mucormycosis, a serious infection also known as black fungus that affects the sinuses and brain, have been reported in India since the start of the pandemic.

Apart from the health effects, the ongoing crisis has also taken its toll on mental health, even for those who do not have the virus. Psychologists said the myriad of feelings felt by countless Indians include fear, confusion, anxiety and helplessness as coronavirus cases and deaths surged around them.

Analysts said the spread of the triple-mutant variant is not only a global public health concern, but will also cast a shadow on the global economic recovery and prolong the international restrictions on travel.

But even in the midst of possibly the worst health crisis the country has ever witnessed, wariness and misgivings towards India's closest neighbour - China - do not appear to have diminished.

New Delhi's reaction towards Beijing's offer of assistance has been lukewarm, and this, according to Indian analysts, stems from prevailing public sentiment that Beijing was not sincerely concerned about India.

But while animosity between the two Asian giants have intensified in the past year over deadly border clashes and India's joining forces with the United States and its allies in trying to contain Beijing, this did not appear to have affected the China-backed Asian Infrastructure Investment Bank from maintaining loans to India.

The bilateral stand-off also does not appear to have adversely affected Chinese citizens living in India, one of whom said Indians welcomed Chinese citizens. He also expressed hope that India's acceptance of help from China would be an opportunity for the two "to make peace" with one another.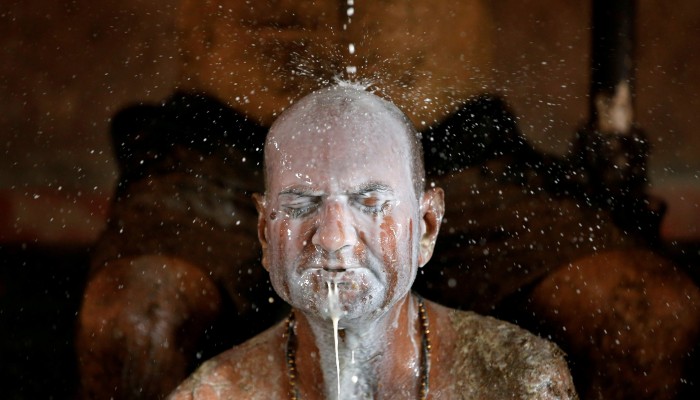 Cow dung cocktails: why India can't get enough of quack Covid-19 'cures'
•
As a tidal wave of infections overwhelms the country's hospitals, a growing number of Indians are turning to outlandish treatments with no scientific basis
•
Support for herbal 'immunity boosters' and other spurious treatments isn't confined to the uneducated – it extends to the highest levels of government
Doctors in India are baffled. Despite being told incessantly for more than a year that only masks, social distancing, and handwashing can protect them against coronavirus, some Indians still prefer to take fake "immunity boosters" and other herbal Covid-19 "cures", or drink concoctions made from cow dung and urine.
At the cow shelter he runs in Geeta Colony in east New Delhi, Radha Kant Vats says people desperate to boost their immunity come to him for a special cocktail called panchakavyam, made of cow urine, dung, milk, curd and ghee (clarified butter). Read more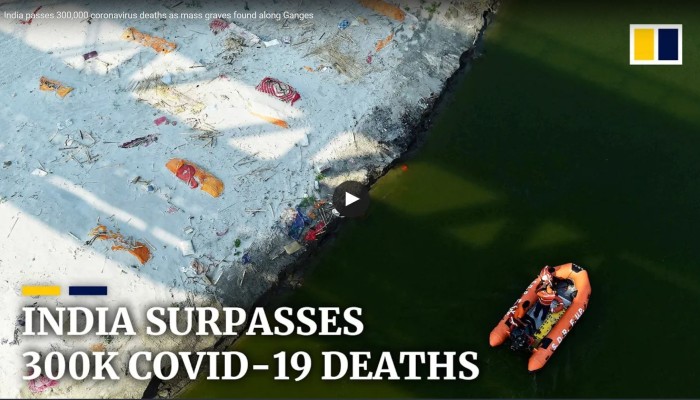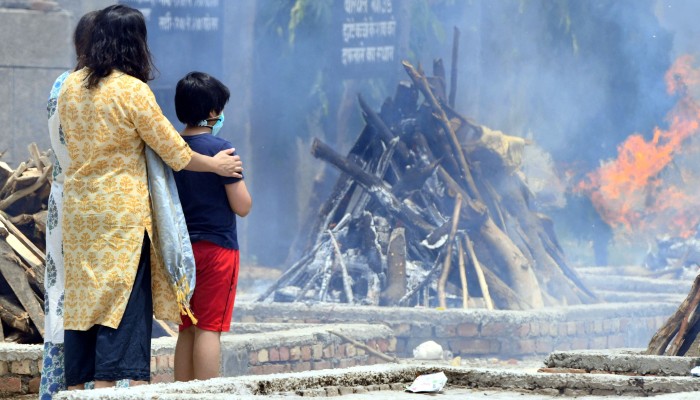 Indian children battle grief and guilt as Covid-19 claims parents
•
Counsellors and other groups in India are supporting a growing number of children who have become orphans or breadwinners overnight
•
Others are facing mental health struggles while being confined at home, as parents fear the double-mutant Covid-19 variant will claim their children
In his first conversation with a counsellor, Alok (name changed to protect his identity) said nothing for 15 minutes. In the second call, the silence lasted 11 minutes.
In the third, eight minutes passed before the 10-year-old boy, who last month lost both his parents to Covid-19, finally spoke. Read more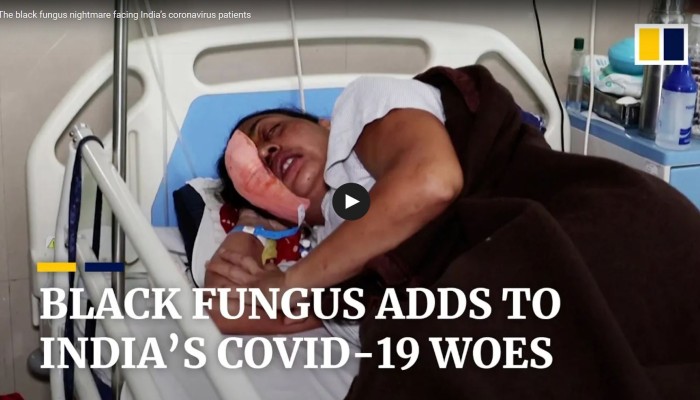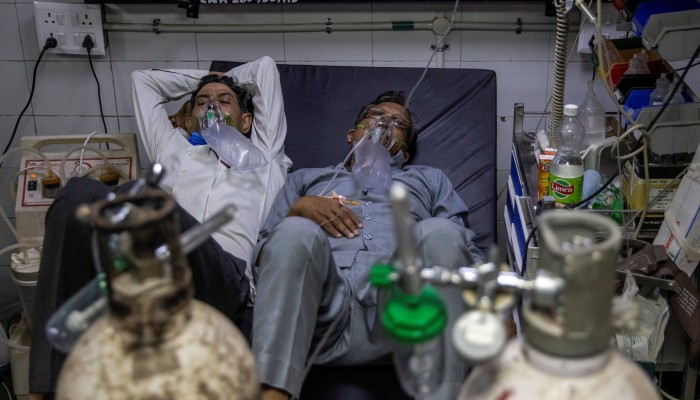 As Covid-19 overwhelms hospitals, Indians seek help from WhatsApp
•
With beds, ventilators and oxygen drying up, relatives of those infected with Covid-19 describe a health system in collapse
•
As medical helplines are swamped, many seek information from social media, where advice may be well-intentioned but is often out-of-date
On the last day of his father's life, in between frantically working the phones to find a hospital bed, Swapnil Rastogi, 26, kept patting and reassuring him. He could see the panic in his eyes as his oxygen level kept dipping. "Papa, please be patient, please hold on. We will get you on a ventilator," he kept saying.
Rastogi's efforts to find treatment for his father were in vain. Raj Kumar Rastogi, 59, died in his Lucknow home on Monday at 11pm. His last words were "Have you bought any oranges for your mother?". Read more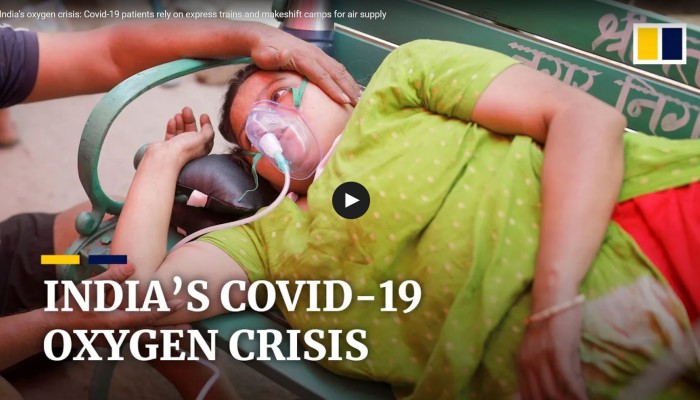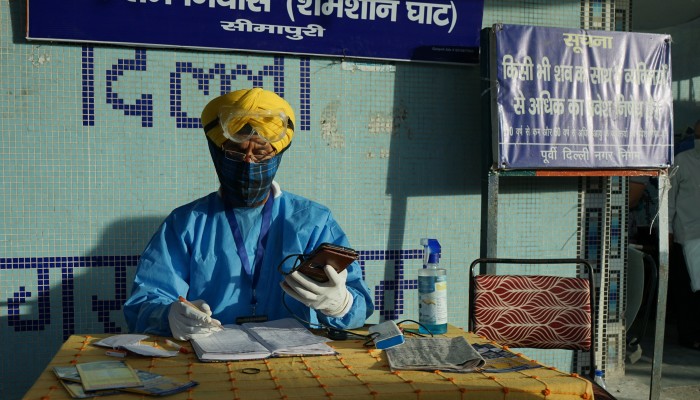 As India's Covid-19 cases surge, volunteers step in where state failed
•
With the Narendra Modi-led BJP government overwhelmed by the Covid-19 crisis, NGOs, ordinary citizens and even the diaspora are doing what they can
•
Putting religious differences aside, volunteers are helping cremate bodies, source oxygen or simply sending meals to those quarantining alone
Suited up in blue protective gear and wearing a face shield under his bright yellow turban, Jitender Singh Shunty sprays disinfectant on bodies at the Seemapuri cremation ground in northeast Delhi.
He has to be quick as corpses are arriving faster than they can be burned. Families and friends of the deceased, who had tried to find hospital beds and oxygen to save their relatives, are thin on patience. Read more
To keep track of the latest global news developments, follow our daily coverage on our main website, or focus on stories about India's coronavirus crisis here.

In our next issue, the China desk will look at whether curbing cryptocurrency trade is one thing the world's two biggest economies can agree on after China and the United States resumed trade and economic talks.

We welcome your feedback. Email me at globalimpact@scmp.com or tweet me at @SCMPAsia. Plus, be sure to check out our SCMP newsfeed for the latest news and analysis.

All the best,
Maria
Maria Siow

Senior Correspondent, Asia
SCMP NEWSLETTERS THAT MAY INTEREST YOU
China at a Glance

A wealth of insights giving you the inside story on China every day.

China Economic Update

The latest developments from trade relations to growth rates and other key economic data.

Inside China Tech

Our weekend newsletter covering the biggest stories and updates from the tech centres of China.

VIEW AND SIGN UP
Download our app
To get push notifications direct and never miss a story as it breaks
Hong Kong
China
Asia
World
Economy
Business
Tech
Comment

Copyright © 2021 South China Morning Post Publishers Ltd. All rights reserved.
This newsletter is created and catered for the global news reader. Each issue will feature a news story originating from China that carries a significant macro impact on the rest of the world.
We hope to share with you a broader perspective on the emerging topics shaping our world and that we feel are revolutionising the way we understand China.