Was this newsletter forwarded to you?

Subscribe here
10 April 2021

Hello again Global Impact readers,

The Alaska summit meeting between top US and Chinese diplomats in late March was even more contentious than initially expected. That theme has continued to play out in the following weeks, with both Washington and Beijing mounting diplomatic offensives to pull in allies or convince third parties to stay on the sidelines in the continuing conflict between the world's two largest economies.

Most countries in the region depend on both China and the US to varying degrees and would prefer not to take sides. But that's increasingly more difficult as the stakes continue to rise.

This week, Maria Siow, a senior correspondent with our Asia desk here at the SCMP, takes a closer look at the further escalation of tensions in the Indo-Pacific region since the Alaska summit.

Best,

John Carter
Senior Editor, Political Economy

US-China rivalry heats up after frigid Alaska talks

Three weeks have passed since the frosty and far-from amicable meetings in Anchorage, Alaska, between top US and Chinese diplomats. The highly anticipated meetings were widely seen as a platform for the superpower and its rising counterpart to break the ice after months of intense rivalry and a relentless trade war.

However, the mood and outcome of the meetings turned out to be decidedly chilly and less-than diplomatic. Since then, that frigid aura appeared to have permeated into subsequent interactions between the world's most watched powers and their allies.

Only a few days after the Alaska meetings, the US and its allies Britain, Canada and the European Union imposed sanctions on Chinese officials accused of human rights abuses in Xinjiang. On 30 March, in its 2020 human rights report, the US Department of State for the first time classified China's actions in Xinjiang as "genocide and crimes against humanity".

On Monday this week, both Washington and Beijing sailed aircraft carriers into contentious waters in the East and South China seas, the latest maritime contest between the strategic rivals at a time of heightened tensions in the region.

The next day, the US said it was considering - together with its allies - a joint boycott of the 2022 Beijing Winter Olympics, amid calls from lawmakers and advocacy groups to back away from the Games because of alleged human rights violations in China. Unsurprisingly, Beijing reacted very badly to the idea.

On Wednesday, China's military said it had tracked a US warship sailing through the Taiwan Strait, a move described by Washington as a routine freedom of navigation exercise and a demonstration of its commitment to a free and open Indo-Pacific, but denounced by Beijing as a destabilising factor in the region.

And of course, any flagrant power play between major actors is incomplete without a supporting cast. In waltzed Japan and the Philippines.

Japanese Prime Minister Yoshihide Suga will meet Joe Biden - the first foreign leader to meet the new US president at the White House - on Friday and will meet his Indian and Filipino counterparts after his meeting with Biden wraps up. Suga's move is widely seen as efforts to coordinate and strengthen these countries' resolve to resist growing Chinese aggression in the Indo-Pacific region.

The Philippines warned China that it would file diplomatic protests for every day that the 200 Chinese maritime militia ships continued to linger near the Whitsun Reef, which sits within the Philippines' exclusive economic zone in the South China Sea.

Manila also warned that the incident was straining ties and could "trigger unwanted hostilities" between the two nations. Still, Manila is keeping its diplomatic options open to resolve the dispute, even as Beijing accused the government of exaggerating the situation.

The rise in provocative activity in Asia comes less than a month after the meeting of the Quad - India, Japan, Australia and the United States - to discuss major topics of mutual concern, including China, amid questions whether the alliance would be effective in a crisis. The meeting backed a "democratic" Indo-Pacific region and warned on Chinese "aggression" and "coercion".

It is not hard to figure out where these events and maneuverings will lead - a more contentious relationship between the US and China, their allies and even non-allies, and greater geopolitical uncertainties for those in the Asia-Pacific region and beyond.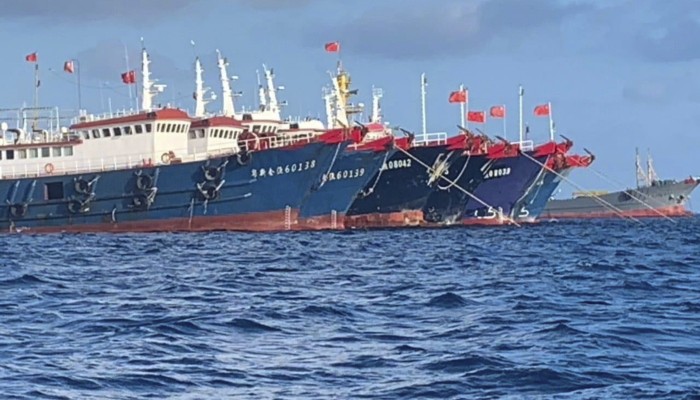 Will the Whitsun Reef dispute come between Beijing and Manila?
•
The growing row sparked by Chinese vessels in the South China Sea is causing a headache for Philippine President Duterte, who has been nurturing ties with Beijing since 2016
•
Beijing's next moves could affect next year's Philippine polls, analysts say, and Duterte's antagonism towards the US could hurt him
For Philippine defence officials, it was a replay of an old nightmare. Early last month, more than 200 Chinese fishing vessels were sighted anchored off the Whitsun Reef, a boomerang-shaped coral formation within Manila's exclusive economic zone (EEZ) in the South China Sea's Spratly Islands.
The fleet, which had been moored there for weeks in clusters without doing any fishing, reportedly included ships from the People's Armed Forces Maritime Militia, which Beijing uses to seize maritime territory non-violently. Read more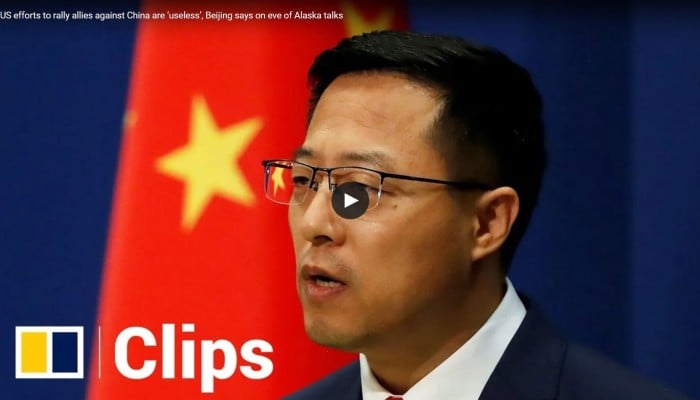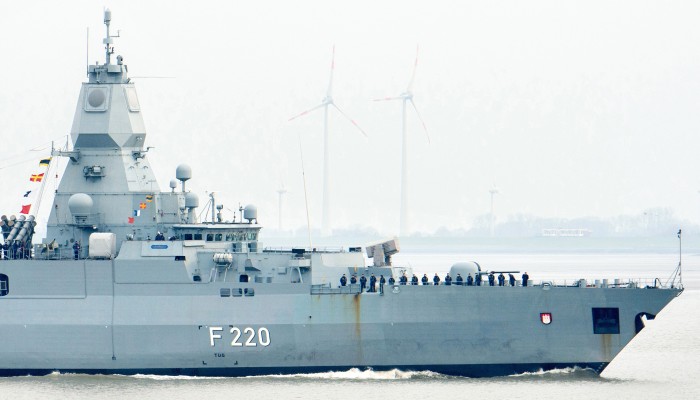 Japan, Germany's first '2 plus 2' dialogue shows extent of Tokyo's outreach amid China's rising assertiveness: analysts
•
Defence and foreign ministers from Berlin and Tokyo are expected to discuss the 'free and open Indo-Pacific', according to the Yomiuri newspaper
•
Experts say the meeting is significant and shows Japan is attempting to expand its security ties beyond traditional partners such as the US
The defence and foreign ministers of Japan and Germany are to hold their first "2 plus 2" discussions in mid-April, with security and the concept of a "free and open Indo-Pacific" heading the agenda.
The Yomiuri newspaper's Monday report, citing unnamed sources, said the ministers would have the talks by videoconference on April 16, and added that Tokyo was expected to use the meeting to underline its growing concern at China's increasingly assertive stance in the region. Read more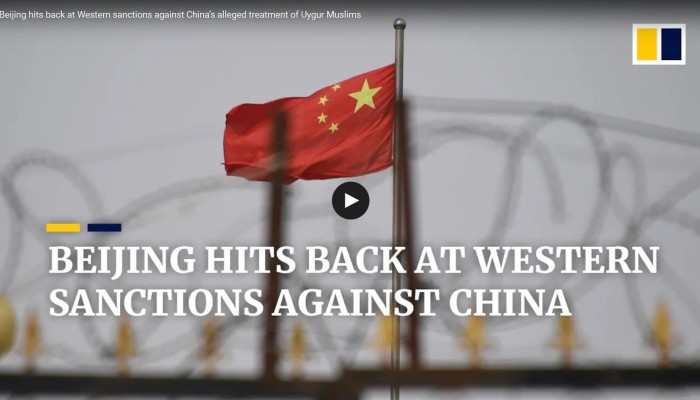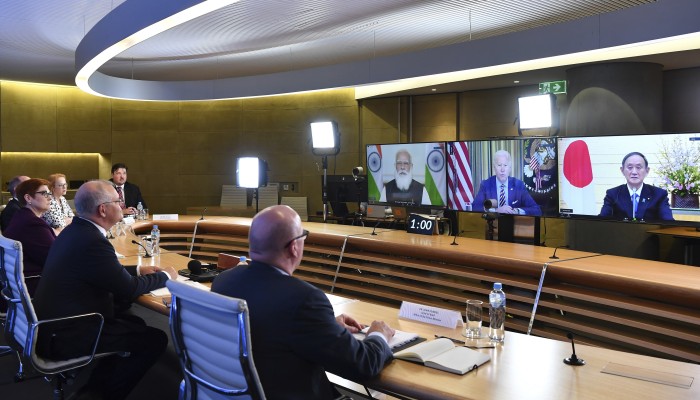 Quad counters China's 'vaccine diplomacy' with billion doses pledge
•
Promise to help fight against Covid-19 could help security grouping counter Beijing's influence in the region
•
US President Joe Biden has made the region and the growing rivalry with China a major focus of his foreign policy
The United States, India, Australia and Japan have pledged to deliver a billion doses of Covid-19 vaccine throughout the Indo-Pacific by the end of 2022 in what is widely seen as a bid to counter China's influence in the region.
Observers said it will allow the group known as the Quad to stake out a role in a region that has been a major beneficiary of Beijing's so-called vaccine diplomacy, but its success may hinge on how severe India's outbreak is. Read more
On eve of Alaska talks, China calls out US efforts to rally Asian allies
•
Chinese diplomats say they do not have high expectations for high-level talks in Anchorage, which follow US meetings with South Korea and the Quad
•
Ambassador predicts Beijing will not yield on American concerns about Hong Kong and Xinjiang
Beijing has shrugged off attempts by the United States to rally support in Asia and demanded that it stop putting pressure on China ahead of high-level talks between their top diplomats.
Beijing and Washington laid out their expectations for the meeting in Anchorage, Alaska, on Thursday, with both stressing that compromise on key issues is unlikely. Read more
To keep track of the latest global news developments, follow our daily coverage on our website, focus on stories about China here and about Asia here.

In our next issue, we'll explore how wealth developed in Hong Kong and mainland China during the pandemic and how it affected overall income inequality.

We welcome your feedback. Email me at globalimpact@scmp.com or tweet me at @SCMPAsia.
Maria Siow

Senior Correspondent, Asia
SCMP NEWSLETTERS THAT MAY INTEREST YOU
China at a Glance

A wealth of insights giving you the inside story on China every day.

China Economic Update

The latest developments from trade relations to growth rates and other key economic data.

Inside China Tech

Our weekend newsletter covering the biggest stories and updates from the tech centres of China.

VIEW AND SIGN UP
Download our app
To get push notifications direct and never miss a story as it breaks
Hong Kong
China
Asia
World
Economy
Business
Tech
Comment

Copyright © 2021 South China Morning Post Publishers Ltd. All rights reserved.
This newsletter is created and catered for the global news reader. Each issue will feature a news story originating from China that carries a significant macro impact on the rest of the world.
We hope to share with you a broader perspective on the emerging topics shaping our world and that we feel are revolutionising the way we understand China.