Was this newsletter forwarded to you?

Subscribe here
27 February 2021

Hello again,

Nearly a month has passed since Myanmar's army chief Min Aung Hlaing shocked the world by seizing power on February 1 from the democratically elected National League for Democracy and the country's civilian leader, Aung San Suu Kyi. In this issue of Global Impact, we explore the road ahead for Myanmar as it once again stares down the abyss of autocratic rule.

Bhavan Jaipragas
Senior Asia Correspondent

Are the numbers telling? Myanmar's surprise coup prompts speculation

It's been reported that the Tatmadaw, as Myanmar's military is known, picked the time and date of its coup on purpose, in keeping with Senior General Min Aung Hlaing's supposed obsession with numerology.

The first members of the civilian National League for Democracy (NLD) government were detained from 3am onwards on February 1.

0300 on 02/01/21 adds up to nine – a number considered auspicious in Myanmar. Alas, much of the analysis of Min Aung Hlaing's thinking is based on such speculation.

Nearly a full month since his shock seizure of power from the NLD's civilian leader Aung San Suu Kyi, there are few clues on what lies ahead for the Southeast Asian country.

One thing is clear: demonstrators, numbering in the tens of thousands and largely made up of Generation Z citizens, are displaying enthusiasm and invention in their protest methods that have inspired admiration around the world. In Hong Kong, Thailand and Taiwan, pro-democracy activists have been more than happy to induct the Myanmar protesters into their exclusive "Milk Tea Alliance".

Beyond the civil disobedience movement, much attention has also been on the various diplomatic manoeuvres by Myanmar's neighbours as well as major powers. For now, Beijing appears to be playing it safe, as it stresses the need for stability without explicitly condemning or legitimising Min Aung Hlaing's junta. In some ways, the coup is a cursory tale for Chinese firms that have expanded into Southeast Asia without conducting proper risk assessments.

In the United States, Myanmar's crisis is shaping up to be a bellwether of President Joe Biden's policy towards Asia, in particular Southeast Asia. Will he pay close attention, or keep his distance, given Myanmar's relatively marginal importance to US foreign policy?

So far, his administration has indicated it takes a very dim view of the coup, and has unleashed fresh sanctions against Min Aung Hlaing and his top lieutenants. For Myanmar's immediate neighbours, the diplomatic conundrum arising from the coup is a bit more complicated.

Countries like Singapore and Indonesia are balancing the need to take a tough stance against violence against unarmed protesters with keeping open communication channels with the junta. Singapore, which maintained ties with the former ruling junta from the 1990s until Myanmar's opening up in 2010, has gone on record to say that widespread sanctions – as recommended by some rights groups – would have an adverse effect on ordinary Myanmar citizens.

Indonesia, meanwhile, has appeared to take a lead role in trying to cajole the Tatmadaw to restore the status quo ante and release Suu Kyi as well as President Win Myint.

It has been an arduous process, with Jakarta taking some flak from anti-coup protesters last week for purportedly suggesting that fresh elections be held. Observers are also paying attention to the actions of other players such as India and Japan, both of which have considerable clout with the Tatmadaw.

Ultimately, there is a growing consensus that the outside world's influence in determining what comes next is limited. Bilahari Kausikan, the respected former Singaporean senior diplomat, told the Post "nobody regionally or internationally has much leverage and that includes Asean and China". There was not much that the regional and community could do beyond expressions of concern and "diplomatic scurrying about to give the appearance of action," he said.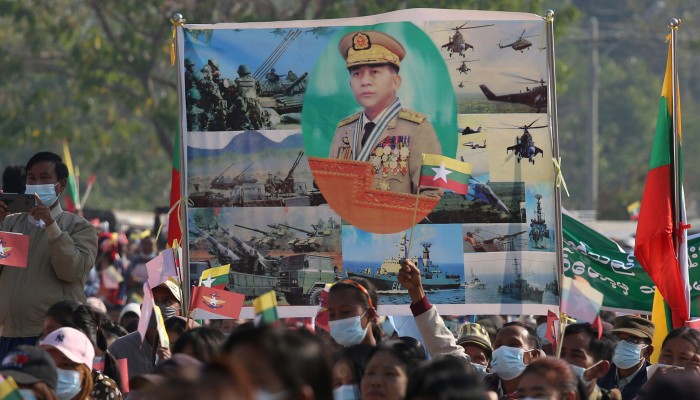 Advantage China, as democracy slides from view in Southeast Asia
•
Strongmen in power in Myanmar, Thailand and Cambodia, single parties in Laos and Vietnam, and democracy eroding in Philippines, Indonesia, Malaysia
•
If Southeast Asia is in an 'authoritarian race to the bottom', analysts say it will play into the hands of one of the countries in the US-China rivalry. Guess which one?
As Myanmar's dark era of junta rule began winding down in 2011 with the bold reforms initiated by the quiet ex-general, President Thein Sein, other events happening across Southeast Asia gave reformists hope this was not an isolated instance of democratic progress.
That year, Yingluck Shinawatra romped to a landslide election victory in Thailand, bringing the populist movement founded by her brother Thaksin – toppled as prime minister by a military coup and forced into exile five years earlier – back into power. Read more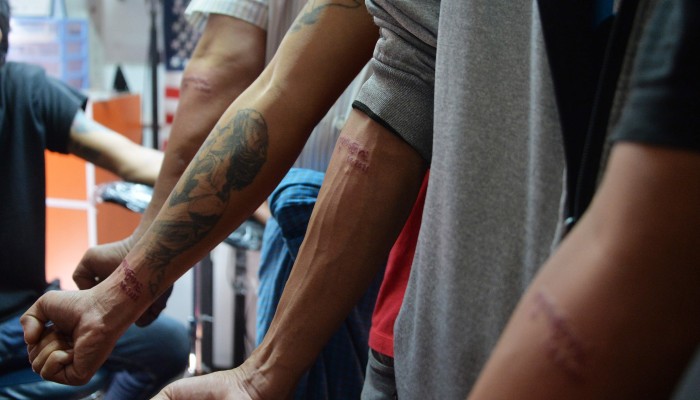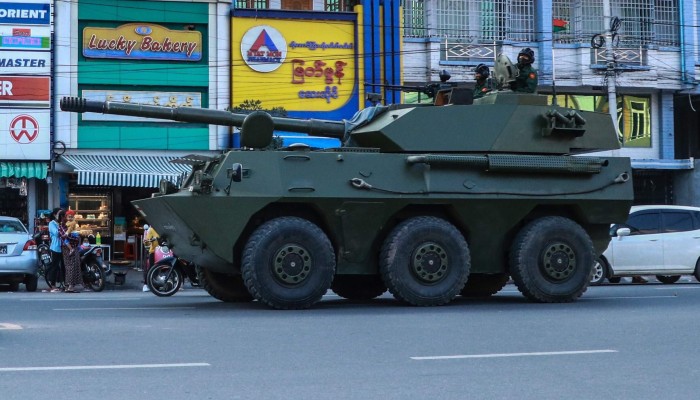 China-Myanmar border trade could be disrupted if military conflict worsens
•
Cargo shipments are said to be uninterrupted at major trade port in Yunnan province, but people still not allowed to cross border amid pandemic
•
China is Myanmar's largest trading partner and its second-largest source of investment
Every day, e-commerce trader Mr Sun imports live crabs from Myanmar to Ruili, a major border crossing in the southwestern Chinese province of Yunnan. But all of his crabs were seized in Myanmar after the coup on Monday.
"The traffic was cut off. Telecommunication was cut off, too. I have no idea when I can get my crabs in," Sun said. Read more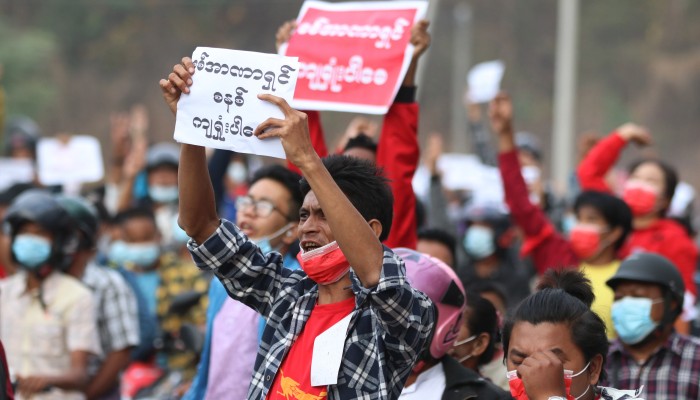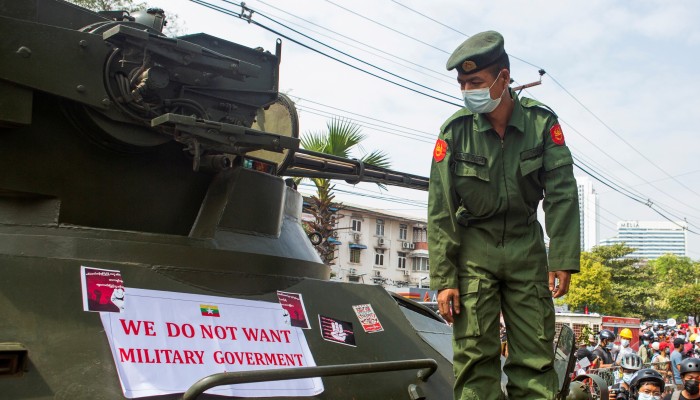 Reformist military men helped Indonesia's democracy. Why not in Myanmar?
•
Indonesia's former foreign minister Marty Natalegawa says when transitions to democracy fail, it is because militaries have failed to reform
•
Indonesia's TNI military gave up a role in politics and never tried to get it back. Tatmadaw should take note: TNI is Indonesia's most trusted institution
When a survey of 1,200 people by Indonesian pollster Indikator Politik this month showed that Indonesia's military, known by the acronym TNI, was the most trusted institution in Southeast Asia's largest economy – even relegating President Joko Widodo to second place – military observers had a ready answer for why this was so.
One reason cited by retired three-star general Agus Widjojo – who during his 33-year career was known as a proponent of reforms to get the military out of politics – was that the TNI never had any "precedents of coup d'etat throughout the history of the armed forces, no matter how difficult the situation was". Read more
To keep track of the latest global news developments, follow our daily coverage on our website, or focus on stories about the Myanmar coup here.
In our next issue, we'll look at the human rights controversy in China.

We welcome your feedback. Email me at globalimpact@scmp.com or tweet me at @scmpeconomy. Plus, be sure to check out our Economy newsfeed for the latest news and analysis.
All the best,
John Carter
Senior Editor, Political Economy
John Carter

Senior Editor, Political Economy
SCMP NEWSLETTERS THAT MAY INTEREST YOU
China at a Glance

A wealth of insights giving you the inside story on China every day.

China Economic Update

The latest developments from trade relations to growth rates and other key economic data.

Tech Wrap

The biggest tech news and reviews coming out of China, HK and Asia.

VIEW AND SIGN UP
Download our app
To get push notifications direct and never miss a story as it breaks
Hong Kong
China
Asia
World
Economy
Business
Tech
Comment

Copyright © 2021 South China Morning Post Publishers Ltd. All rights reserved.
This newsletter is created and catered for the global news reader. Each issue will feature a news story originating from China that carries a significant macro impact on the rest of the world.
We hope to share with you a broader perspective on the emerging topics shaping our world and that we feel are revolutionising the way we understand China.